ASK POPPY is a mini-series produced to promote Trolls: The Beat Goes On!. They star Queen Poppy trying to resolve the everyday problems of her friends.
Episodes
Bad Hair Day
Poppy has to deal with Guy Diamond's hair, which is not cooperating with him. If not, he'll miss out on Biggie's glow-stick party.
She manages to succeed by getting Biggie to change it to a glow-stick and hats party.
An Unforgettable Thank You
Biggie
wants to say "thank you" to
Smidge
.
Hugs are Dangerous?!.
Smidge got an electric shock, and hugging any troll would electrocute them, so she's encouraged to have a group hug and share the shock.
Win at Glitterball
Troll Village
has the annual glitterball fight, and Poppy must protect
Harper
while she paints a picture. But it later turns out that Harper tricked Poppy, and hits her with a glitter ball.
Nail Your Morning Routine
DJ Suki
practices her morning routine.
Branch's New Hairshake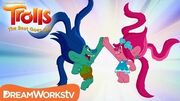 Branch
needs a signature hairshake because things are getting awkward. When all the good ones are taken, they make the best one ever, but immediately forget how it goes.
Satin & Chenille's OOTD Fashion Fiasco
Satin and Chenille
can't decide on a dress for their new fashion line, so Poppy helps them. When they make the ugliest dress ever, the twins decide they'd rather work together than wear that.
How to Dance Trolls Style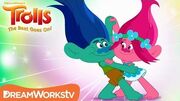 Branch needs a partner for the swing dance party, but Poppy doesn't want to let him lead, so she has auditions and ends up as his partner. However, it turns out they were just dancing on swings.
Turn an Enemy into a Friend
Poppy and Biggie try to befriend a spider that has invaded Biggie's pod.
Prank Like a Pro
Community content is available under
CC-BY-SA
unless otherwise noted.