DJ Suki is a supporting character in Trolls, Trolls: The Beat Goes On! and Trolls: TrollsTopia. She's among the Trolls who get kidnapped by Chef. However, unlike most of The Snack Pack, she doesn't return in neither Trolls Holiday and Trolls World Tour.
Appearance
Normal
DJ Suki is an average-sized Troll with hot pink skin, a bright blue nose and light pink eyes. Her hair is a shade of orange, and seems to be quite thick and frizzy-lookin; it's tied up with a light purple bobble. Some sparkles can be seen on her cheeks. DJ wears a yellow, white, purple and blue stripped tank top, with matching pants. She also wears white, blue and pink headphones and yellow, white and pink bracelets on both arms. She has a pink "wishstone" on her belly button, a characteristic of Treasure Trolls.
In early promos, DJ's "wishstone" was blue.
Normal
Her design remains mostly the same as in Trolls, though her outfit has a simplified color scheme. The white and pink bracelets she had in 3D animation are also gone.
Normal
She appears the same as in Trolls: The Beat Goes On!.
Official Bios
Trolls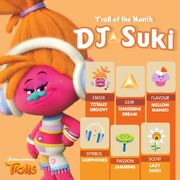 DJ Suki can always be counted on to lay down some beats for an impromptu musical moment — of which there are many in Troll Village. Her DJ equipment is all natural, consisting of crickets, beetles and other little bugs that she scratches and mixes with to create a totally unique sound. She commonly falls asleep in the daytime.
She's the Troll Town resident mash-up expert.
DJ Suki wears headphones made of yarn.
Drops a needle-scratch noise during awkward moments.
Her playlist is always upbeat and up-tempo.
DJ Suki never takes her headphones off.
Trolls: The Beat Goes On!
DJ Suki creates the soundtrack of Troll Village and is the chillest personality in the whole forest. She has a big, empathetic heart and when her core principles are challenged, she'll stand up for what she believes in - like keeping a party going or making sure you don't harsh someone's mellow.
Trolls: TrollsTopia
DJ Suki is the chillest troll in the forest. She's a little flighty and a bit of a slacker, but with her big, empathetic heart, Suki will always stand up for what she's believes in.[2]
Personality
Suki tries so hard to please other Trolls, and she doesn't like letting others down. She 's encouraging to her niece CJ, because she doesn't want to see her disappointed or sad. She wants to be a good DJ and please her fellow Trolls, and a good aunt to her niece. These simple desires to please others are her best traits. She often joins in parties offering her DJ skills, as well as a lot of the fun things her friends attempt to do.
While not as extreme as Branch's paranoia or as anxious as Biggie, she worries about failure at times, since disappointment is something she doesn't handle well. When issues arise, she often turns to her friends for help, especially Poppy, in order to receive support and encouragement.
DJ is laid-back and a bit lazy at times, being able to fall asleep with very little effort. In "The Giver", she states that she learnt to sleep with her eyes open due to Poppy's annual "Giver" search driving her crazy. She's also subject to a ASK POPPY episode where it's shown she had a bad morning routine, and for her birthday in "Two-Party System", was given a chair to sleep on.
In the Trolls: TrollsTopia episode "Palentine's Day", it was shown that DJ appreciates kind gestures towards her, but she has her limits on what she can reciprocate, as shown by Demo's Pal-posal going horribly wrong. DJ isn't a complicated Troll, and preferred a simple Pal-posal over an elaborate and disastrous one.
Relationships
DJ Suki is shown to be close friends with Poppy in Trolls and Trolls: The Beat Goes On!, and thus is a member of The Snack Pack.
CJ Suki looks up to DJ as her favorite aunt. DJ is basically her idol, and DJ likes to meet CJ's expectations and hates to disappoint her niece, even though CJ still thinks DJ is awesome even when the latter happens. The two have a great relationship.
Gertrude
Gertrude is DJ's favorite aunt, whom she mentioned, but was never seen. From what DJ had told about her, the pair seem to have a similar relationship to the one DJ and CJ have. It was Gertrude who took DJ to Wooferbug Valley when she completed her Troll Ranger badges.
In the Trolls: TrollsTopia episode "Palentine's Day", Demo went to great lengths to get DJ Suki's attention so that he could ask her if she would be his Palentine on Palentine's Day when he's tasked with proposing to her for the event.
Skills & Abilities
She has most normal Troll abilities.
Music
DJ has unmatched skills in mixing and DJing in Troll Village, and is capable of DJing like no other Troll. She rides on her Wooferbug and performs most of her DJing from it. According to DJ, her Wooferbug is less stubborn than her niece's one, which she got for her birthday.
In "Daylight Ravings Time", while teaching Laguna Tidepool on how to be a DJ, DJ Suki almost reveals that being a DJ is actually easy and is a skill learnt quickly in a short amount of time with little effort. To not undermine her own talent, she corrects herself and rephrases her wording to hide how easy it is to catch it up.
Intelligence
DJ isn't the smartest Troll of The Snack Pack; in fact, her and Cooper are the two least likely to come up with complex solutions to life's problems. But she's not stupid, and knows her stuff on subjects she's best at; it's everything else that she doesn't necessarily understand. She simply lacks the resourcefulness or ability to resolve the problem like other Trolls such as Branch, Guy Diamond or Poppy can be and has a habit of falling asleep when she looses interest.
Vehicle Maneuver
In "Flyer's Ed", DJ Suki attended Lownote Jones's flying lessons. She passed the class, but like most of the students came nowhere near Poppy and Val Thundershock's grade. It's unknown if she progressed in her vehicle maneuver skills beyond this.
Other Talents
DJ was shown in the Trolls: The Beat Goes On! episode "DJ's Got Talent" to have issues with talents outside of DJing, as DJ has virtually no additional skills beyond it. She learns in the episode how to ride a Saddle Spider, but soon discovers despite that her hopes she still didn't have an "unique talent" of her own when another Troll turns up with the same talent as her. In an earlier episode, "Party Crash Course", she struggled with partymaking after her previous party failed miserably, needing a crash course on how to run a party. In "The Giver", DJ was shown sleeping with her eyes open.
Songs
Trolls
Trolls: The Beat Goes On!
Theme Song
Season 1
Season 4
Season 5
Season 8
Trolls: TrollsTopia
Theme Song
Trivia
General
DJ is the only member of The Snack Pack who has a quite large known family. She has 3 aunts and a niece, though her aunts are never shown and were just noted in passing reference. Due to her having a niece, she presumably has a sibling as well. Even though her aunt Gertrude doesn't follow the "Suki" naming scheme, she's also a DJ herself.

Gertrude is the only one of her aunts given a description. She took DJ to a woofer valley to see the Wooferbugs. According to CJ Suki, Gertrude is "dope".
DJ has the most known living relatives, while Smidge has the most known ancestors.

DJ Suki and Creek are the only two major Trolls from Trolls to not return in Trolls Holiday and Trolls World Tour.
Specific To...
Trolls
DJ has only one dialogue line in the movie; she says "...the loudest!" when the Trolls are describing Poppy's party. Most of her lines in the film are singing.
DJ is never shown actually getting grabbed by Chef.
References