Moxie Dewdrop is a minor character in Trolls.
Appearance
Moxie is a Troll with magenta skin, pink eyes and nose, and light pink hair. On her cheeks some glitter can be seen. She wears a yellow and orange gradient dress.
Her design is created via the random Troll generator that DreamWorks used to create the Troll crowds in Trolls. She is one of several Troll models created this way.
Official Bios
Trolls
Moxie busts a move at any troll dance and always leaves the crowd chanting: "Moxie rocks!".
​Moxie Dewdrop invented the dance craze known as the Razzle Dazzle.
She performs interpretive dances to Cybil's spoken word poetry.
Frequently participates in Dance-offs with Guy Diamond
Skills & Abilities
She has most normal Troll abilities.
In the Trolls era she was listed as a Rainbow Troll. Her "True Colors" are unknown.
Music
According to her official bio, she's a great dancer, able to rival Guy Diamond and perform interpretive dances.
Trivia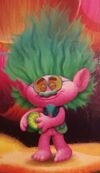 Moxie is named only on the Trolls website and in the movie's credits. Some versions of the movie didn't credit her by name, though.
She shares her family name with Rhyme Dewdrop, who appears in the book Let's Dance. Due to lack of information, it is unknown how the two are related, though apparent they are. Rhyme Dewdrop has a curently abandoned trademark in his name from DreamWorks for toys, games and playthings; it seems that DreamWorks had originally planned to do more with his character.