| | | |
| --- | --- | --- |
| " | Oh my Guh! | " |
| | ~ Smidge's catchphrase | |
Smidge is a supporting character in Trolls, having appeared throughout the franchise ever since. She's a member of The Snack Pack.
Appearance
Normal
Smidge is a Troll who appears to be very small, compared to the average size of a Pop Troll. She's one of the smallest Trolls in Troll Kingdom, with a height comparable to the Classical Trolls, who are the smallest Troll Tribe overall. Her skin color is bright yellow, the color of her nose is pink, and her eyes are blue. Like most Trolls, her teal hair sticks up, though it appears to be quite longer than usual. In her hair, she wears a large pink bow that seems to be made from a felt material. Smidge also wears a pink dress with a light blue pom-pom on it.
Despite being small, she has a masculine, gruff-like voice.
Normal
She has the same appearance as in
Trolls
.
Normal
Smidge's design remains mostly the same as in Trolls. Some minor changes are that her forehead has her hairline in a v-shape instead of a curve like in Trolls, and her hair has a greener tinge to it. Her nose was also switched to a grey-blue color.
Normal
She has the same design as in
Trolls
and
Trolls Holiday
with minor improvements.
Normal
She appears the same as in Trolls: The Beat Goes On!.
Official Bios
Trolls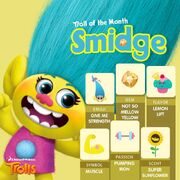 Smidge is a teeny-tiny Troll with a shockingly deep baritone voice. Her hobbies include: weightlifting, listening to heavy metal, and crocheting.
Although she has a little body she has a loud, deep voice.
She's incredibly disciplined when it comes to fitness and nutrition.
Smidge likes to fit in a quick workout during any dance number.
She jumps rope with her own long hair.
Trolls: The Beat Goes On!
Smidge is fiercely loyal to Poppy and takes it upon herself to personally assist her AND put someone in their place if they give Poppy any guff. When she's not by Poppy's side, Smidge spends her time pumping iron.
Trolls World Tour
One of the smallest Pop trolls, Smidge sounds like the biggest. At first resistant to be a big sister to Tiny, Smidge rallies the Snack Pack to infiltrate the Rock Trolls' kingdom.
Trolls: TrollsTopia
Smidge is incredibly competitive, fiercely loyal and while she is the smallest troll in the village she refuses to be overlooked. If she's not on an adventure you can find Smidge pumping iron in her spare time.[3]
Personality
Smidge's character was mostly not fleshed out in the movies, and most things about her therefore come from Trolls: The Beat Goes On! and Trolls: TrollsTopia. Trolls, however, does give her the catchphrase "Oh my Guh!", which she says a lot.
Smidge is a tough Troll, often resorting to the most violent methods first, as exampled in the The Giver. She actually prefers to be adorable at times, as evidenced by her holiday suggestion in Blank Day "Be Adorable Day", although struggles not to be aggressive as shown in Crushin' It. Like many Pop Trolls, she's keen to get involved in things that sound fun, and not on those that don't sound fun. She tends to overreact with anger and excitement, making her emotionally expressive and loud, though most of the time doesn't behave like this.
Smidge's easily impressed by anything that involves making friendships around Troll Village. Later in Trolls: TrollsTopia, she extends that to the new TrollsTopia project. She's keen to help others, but impatient. She likes joining in the fun of other Trolls, and has a mischievious side when paired up with others like Guy Diamond. She's also not above mocking or pointing out the flaws of others.
Relationships
Smidge and Poppy are close friends. In Trolls, Poppy gets sad and worried when Chef takes Smidge and her other friends away, but she stays hopeful that she will rescue them.
In Trolls: The Beat Goes On!, it's shown that Smidge is fiercely loyal to Poppy, which can get problematical for her at times, as seen in episodes like The Helper.
Smidge and Guy Diamond have a fluctuating relationship in Trolls: The Beat Goes On!. In Unhealthy Competition, Guy competed against her over Stoutberry juice making. In Crushin' It, however, Guy and Branch both attempted to join in helping to teach Smidge how to be more refined. Meanwhile in Hair Ball, Guy invites her to the Hair Ball as his date; when he finds out she also invited Milton Moss, he was more insulted, as she didn't tell him then that she had two dates. Although, he was able to use the situation to get pity from others, and was still prepared to act as a disco ball for the pair's final dance of the night.
There are times Smidge and Guy work together in mischief, as they tend to play off of each other's traits. For example, they enjoyed mocking Branch in the episode The Bunker List.
In Trolls: The Beat Goes On!, she has a crush on Milton Moss, the gentlest Troll in Troll village. The first time this is shown was in Crushin' It, where she tried to put an etiquette of "perfect lady" towards him; but he got him to love her back after saving from Tarantacapuffacus. Later episodes involving their relationship include Hair Ball and To Catch a Critter.
Synth asked Smidge in the Trolls: TrollsTopia episode Palentine's Day to be his Palentine after receiving her card.
Skills & Abilities
She has most normal Troll abilities, as well as the abilities of her Tribe.
Her physicality comes into account sometimes when it comes to weight and size matters, due to her being smaller and lighter than most Trolls.
Physical Prowess
Smidge is best known for being one of the strongest Trolls alive, and is the physically strongest member of the Pop Trolls. She's the only one capable of squeezing Stoutberry into juice, as seen in Unhealthy Competition. In Smidgician, she notes her tendency to go from physical strength is a result of her parents, as they were "the physical strength type". She has a violent streak, and is most willing to deal with problems physically.
It is mentioned in some media that Smidge also has the strongest hair among the Pop Trolls.
Competitions
Smidge enjoys winning as much as the next Troll, though usually not at the cost of friendship. She and Biggie have been holding a longtime record together in the musical thrones tournament, as seen in the Trolls: The Beat Goes On! episode Musical Thrones. She's not disappointed in losing, but at least likes to feel she stood a chance as exampled in Snow Day, where she's distraught that she failed to get a 1st place medal. Though she forgot about friendship in Musical Thrones, nearly costing her partnership with Biggie, in The Party Games, she was shown to not be bothered as much as being a winner as she was on friendship and teamwork. She joins in with most sports and games shown in the 2D series.
Music
Smidge can be considered to have a bass or baritone singing voice.
Illusions
In Trolls: The Beat Goes On! episode Smidgican, Smidge tries her hand at illusions to mimick her ancestors. She was unable to pull off the basic of tricks, and was unable to become the magician her ancestors were. She noted that this appears to steem from her parents, who focused on physical strength instead.
Songs
Trolls: The Beat Goes On!
Theme Song
Season 1
Season 2
Season 4
Season 5
Season 8
Trolls: TrollsTopia
Theme Song
Season 1
Note: List incomplete
Etymology
"Smidge" is a different spelling for "smidgen", which in turn means "small amount".
Most of Smidge's ancestors were also named after words referring to small sizes.
When translated into other langauges, her name usually continues to carry the meaning of "small".
Trivia
General
Smidge and Biggie have contrasting designs and somewhat visual jokes; Biggie is a large Troll with short hair and Smidge is a small Troll with long hair. Their designs are a play on the normal proportions of the Troll design, which stands 6 inches tall with their height being equal length in both body and hair at 3 inches.

This also extends to their personalities in the 2D animations. Biggie is soft, quiet-spoken and gentle, with a reluctant outlook to life; while Smidge is loud, agressive and bolder with her approach in contrast.
Smidge's deep voice is also a subversion joke.

Smidge is the member of The Snack Pack with the most known ancestors, while DJ Suki is the one with the most known living relatives.
References