Treasure Trolls, also known as Gem Trolls, were a family of Trolls that existed in Trolls-era media. They were referred to this in some media, such as Trolls: Crazy Party Forest!.
Despite this being their official family name, neither Trolls nor Trolls: The Beat Goes On! referred them as this, and there appears to be little said on anything special about them in comparison to Glitter Trolls or Fuzzling Trolls. They're treated the same way as any other Troll within the franchise.
The term has been mostly abandoned since Trolls World Tour, with the main Troll that was the basis of the family, DJ Suki, not reappearing in the movie's main plot.
Appearance
These are the name given to Trolls born with "wishstones" on their body like DJ Suki. The gem or gems are found either on the Troll's belly button or elsewhere. Aside from the gem, these Trolls resemble any other Troll of their Tribe.
Classical Trolls have a similar gem on their belly.
Known Members
Official
Influences
They're loosely based on the classic "Good Luck Trolls" of the 1980s and 1990s, which included at times Gems that children rubbed for luck called "Wishstones", instead of rubbing a Trolls' hair like all other "Good Luck Trolls". As children rubbed, they were supposed to make a "wish". If the child was good to the Troll and carried it around, it would help the "wish" come true. This series were referred to as "Treasure Trolls", and is where these Trolls get their name from.
They're one of the two families of Trolls to share their name with classic Troll dolls. The other is the Rainbow Trolls, which are named after a series of dolls of the same name. The company that produced the Treasure Troll dolls was Ace Novelty.
Trivia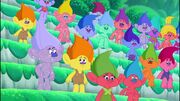 In Trolls Holiday, Branch sings about putting a gem in your belly and rubbing it for luck. This is a reference to these Trolls, although some media has the gem in other places.
In The Art of the Trolls, both Poppy and Branch were going to have gems in their belly at one point, but this concept was added and removed several times throughout their development. Neither had gems in the end.
In Trolls: The Beat Goes On!, it was possible for a Random Troll to generate as a Treasure Troll. The Trolls were always male, due to how they generated, and were only seen if the male was created without a shirt or dungarees covering the gem. There are 4 possible colorations of this Troll: red, yellow, blue and lime green.
Due to the gems in her hair, Celine Starburst from Trolls: The Beat Goes On! was likely meant to be also a Treasure Troll.
Page Poll
What was your favorite Troll Family?
Community content is available under
CC-BY-SA
unless otherwise noted.