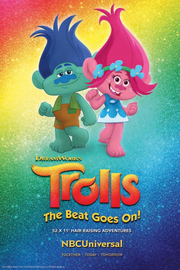 Trolls: The Beat Goes On! is a TV series adaptation of the Trolls feature film. The series premiered on Janurary 19, 2018 on Netflix.
The second season consisted seven episodes was released on March 9, 2018, third season consisted six episodes on August 24, 2018, the fourth season consisted seven episodes on November 2, 2018, the fifth consisted six episodes on January 18, 2019, the sixth season consisted six episodes on April 9, 2019, and the seventh consisted seven episodes on August 27, 2019.
There are currently seven seasons, composed of six to seven episodes each. Episodes are typically 23 minutes long, and usually consist of two separate stories.
Plot
Picking up where the film left off, Poppy and all the fun-loving Trolls adjust to living with their Bergen neighbors in this colorful animated series.[1]
Cast
Episodes
Season 1
Season 2
Season 3
Season 4
Season 5
Season 6
Season 7
Freeze Tag/Whimsy Wasps
The Fast and the Friendliest/Much Achoo About Nothing
Extreme Sleepover Club/Vega Swift
Scrapbookmobile/Troll Rangers
Doc Doc, Who's There?/Tour Guide of Duty
Troll Playing Game/Finn Cascade
Gem Day/Bad Luck Branch
Trivia
Most of the animation is traditional 2D style instead of the computer-animated hybrid 3D style used in the films.
Many of the original actors did not reprise their roles from the film.
Episode 1 in Season 4 is the only one that does not have two separate stories.
References
Community content is available under
CC-BY-SA
unless otherwise noted.