WELCOME TO THE TROLLS WIKI
Help
•
Terms of Use
•
Wanted Pages
•
Categories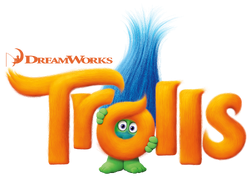 Trolls is a 2016 3D computer-animated musical comedy film. The film follows a colorful, wondrous world populated by hilariously unforgettable characters. Discover the story of the overly optimistic Trolls, with a constant song on their lips, and the comically pessimistic Bergens, who are only happy when they have Trolls in their stomach.
That hit film has spawned to TV shows in Trolls: The Beat Goes On! and Trolls TrollsTopia, both themselves full of color, humor, and toetapping music for the whole family!
A sequel titled Trolls World Tour was released on April 10, 2020. In an adventure that will take them well beyond what they've known before, Poppy and Branch discover that they are but one of six different Troll Tribes scattered over six different lands and devoted to six different kinds of music: Funk, Country, Techno, Classical, Pop and Rock. Their world is about to get a lot bigger and a whole lot louder.
---
THE CHARACTERS

Pick your Bergen
---
WE NEED YOUR HELP!
We have three named characters that have fallen into obscurity and their names are currently unknown. We need their names! All three appeared in the Trolls Magazine. If you can identify them and provide a source (a mobile phone picture, anything will do), the wiki would appreciate it.
Thanks in advance!
Another plea'
Dear Troll fans, we need your help with another Troll matter.
We're looking for the bios of the Trolls: Crazy Party Forest! Characters so they can have their own pages. If anyone has more information, please notify us. Thank you.
---
FEATURED MEDIA
---
DISCUSSIONS
Trolls Wiki
This wiki is about all things related to the Trolls franchise, and anyone can edit! Not sure where to start? Pick a page at random! Can't find what you're looking for? Make a new page!
Reader beware - this site contains spoilers.
Count down
Countdown for Trolls TrollsTopia is currently delayed until late 2020/early 2021 due to the impact that the COVID-19 pandemic is having on the industry. The countdown will be inserted when the schedule is available.
Did you know...?

Pop Troll facts
Pop Trolls record everything via scrapbooks.
Their ancestors were purposely written to be bad guys in Trolls World Tour and from early drafts the idea they had rewritten their history had always been a thing.
The Pop Trolls are the most like the traditional Troll Doll
Many of the Pop Trolls are visual gags on the normal Troll design this includes Smidge, Biggie, Satin and Chenille, Fuzzbert, Legsly and Skyscraper
Trolls Live!
Did you know that there's a Trolls Live! event? Check it out! The performance lasts for much of 2020!
External Links
FACEBOOK
</fb:share-button> data-small-header="true" data-show-facepile="false" data-show-posts="true">
TWITTER
AFFILIATES
Trolls Family
The Trolls
Our Cousins
Community content is available under
CC-BY-SA
unless otherwise noted.