The Trolls Holiday Shorts are a series of shorts based on various characters in the special Trolls Holiday. There are 3 shorts overall.
Shorts
Dress Up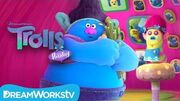 This short features Biggie & Mr. Dinkles playing dress up as Branch and Queen Poppy, respectively. The pair reenact the start of the film with Poppy and Branch interactions, but Biggie changes to the script. Poppy walks in on the pair; she leaves disturbed by what she has seen, saying to Mr. Dinkles that he could do with more glitter. Then Mr. Dinkles talks again, frightening Biggie.
Together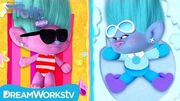 This focuses on Satin and Chenille and how they don't get along. They're seen doing various tasks with one twin forcing to do her activity over her own. Eventually the pair are seen sat down away from each other, Cooper comes along and Chenille attempts to treat him to jump rope using their hair. Satin objects and tries to stop her sister, causing Cooper to end up tangled between them. The two soon realise what they have done to Cooper and the 3 laugh. They free Cooper by tossing him in the air and walk off saying "I love you" to each other. Cooper finally lands later that night on a mushroom.
Trolla-Palooza Tour
The Snack Pack goes on a bus trip with Cloud Guy each playing an instrument. While the rest of the group is playing, Poppy's cowbell starts to overpower Branch's guitar riffs. Cloud Guy says he understands, and proceeds to give Poppy a bigger bell. As the song continues, Poppy continues to get a bigger bell until it overpowers the entire song, and Branch calls it out. Poppy accepts that there are many talented musicians here, and that she shouldn't be taking the spotlight. The short ends with Cloud Guy telling Fuzzbert to give him more kazoo; Branch gives up and accepts it.
Community content is available under
CC-BY-SA
unless otherwise noted.