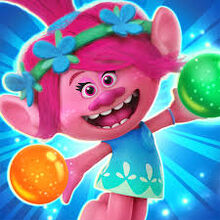 Trolls Pop was an app game of the "Bubble Popper" style. It was first released in 2018, and was discontinued in May 31, 2021.
Official Game Description
Join Poppy, Branch and the rest of your favorite Troll friends in Trolls Pop! This new free bubble shooter saga offers fun and yet challenging levels at every turn!
Trolls Pop Features
Special Missions: Play through missions such as Pop'em All, Baby Bug Rescue, and more to earn chests filled with stickers to help collect your Trolls

Power-Ups: Need a little help popping through those bubbles? Use the Magic Missile, Rainbow Bubble, Razzle Dazzle and The Disruptor to blast bubbles in style!

Collect Your Favorite Trolls: Collect stickers to add Poppy, Branch, DJ Suki, and more to your Troll collection and pop bubbles together

Customize Your Trolls: Collect fun and unique costumes to make your Trolls one of a kind

Challenges & Events: Check back often to collect rare and exclusive Trolls

Free Chests: Visit the game regularly to collect free chests with special rewards

Keep improving your skills in this bubble shooter puzzle game! Blast through levels and match bubbles to master this free bubble pop saga! Keep in mind that Trolls Pop is free to play, but you can purchase game items with real money.
Gallery
External Links