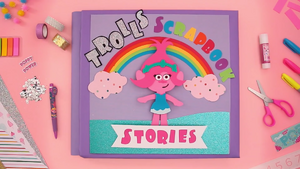 | | | |
| --- | --- | --- |
| " | Hey there, I'm Poppy! And I'm here to tell a story in the best way I know - in scrapbook form! | " |
| | ~ Poppy's introduction at the beginning of every story | |
Trolls Scrapbook Stories is a series of shorts based on the Trolls franchise's Scrapbook format. It serves as a supportive series for Trolls: TrollsTopia.
The series serves much the same purpose as Ask Poppy did previously.
Episodes
Poppy's Rock Queen Transformation
Released: July 18, 2021
Synopsis
Poppy takes over for Val and becomes the Hard Rock Queen for the day. Can Poppy maintain the unconventional harmony of Troll Forest?
Plot
Poppy visits her "soon-to-be-best-friend-but-she-didn't-know-it-yet" Val Thundershock. She tells Poppy that Queen Barb was still feeling guilty after the events of Trolls World Tour, so Barb went on a "Sorry about turning everyone into Hard Rock Zombies" tour. She agreed to go along on the tour with Barb, but was afraid of leaving the Hard Rock Trolls in TrollsTopia alone as they look to her for help. Poppy agrees to be "Queen" while gone. Poppy agreed but reminded her that despite her having experience with the Pop Trolls, these are Hard Rock Trolls and they're not the same. Almost immediately the Rock Trolls began to come to her with their problems. Poppy begins to help the Trolls coming to her, but she can't quite get things right, and ends up with Pop-based solutions to their problems. However, her suggestions didn't go down well with the Trolls and slowly everything falls back out of place. Poppy thinks she had done everything just like Val but soon realizes she hadn't as she remembered her warning about Rock Trolls not being like Pop Trolls. By the time Val returns she has fixed everything. Val was thinking of leaving on another tour, but Poppy didn't want to fill in for her this time.
Notes
The image of each Tribe's hand gesture is seen in the background behind the Scrapbook.
This short takes place prior to Season 3.
Appearances: Poppy, Val Thundershock, Queen Barb
Poppy Gets Lost in Vibe City?!
Released: July 25, 2021
Synopsis
Have you ever been lost in the Vibe Town Space Ship? Well, Poppy has and she's here to tell the story the best way she knows... In scrapbook form!
Plot
Poppy starts by introducing herself, Cooper and the Vibe Town spaceship. The story is about how Cooper decides to spend some time in the Vibe Town spaceship after learning about himself being a Funk Troll and Poppy went with him. The Funk Trolls warned the pair not to get lost as it's easily done in the ship. When the Funk Trolls left to get snacks, Cooper immediately started to wander. Despite Poppy's warnings about them being told not to wander, Cooper claims he's not wandering but exploring. Poppy tells him again to head back, but he insists her to trust him, as he's a Funk Troll. Poppy realizes they're lost, but Cooper continued on until he was done exploring and the pair attempt to find their way back. They go to turn back, but find a serious leak upon the ship's "groovetonium" Funk Drive. Poppy realized that if they hadn't gone exploring the leak would have gone unnoticed and Vibe Town would have been doomed. Poppy sees it as a reminder that it's okay to explore, as you never known what you will find. With that, Cooper hits a button and the pair are encased by bubbles, leaving Poppy to shout "Cooper, no!" too late as they float off.
Notes
This was likely based upon an unused plot concept for Trolls World Tour. Before settling with Vibe City, the Funk Trolls originally lived in a Funky Forest, in which Poppy was supposed to get lost in.
The name of the episode is misleading, as "Vibe City" and "Vibe Town" are two separate spaceships, the former being the Funk Trolls' mothership and main home.
A Funk Troll resembling Blues is seen but not named.
Poppy's Hair Scare Solution
Released: August 1, 2021
Synopsis
Poppy attempts to tame a wild mane - Holly Darlin's hair, to be exact. So saddle up for our next scrapbook adventure!
Plot
When Poppy visits Holly Darlin' at Country Corral, she finds that Holly is having a bad hair day. The hair carries off Holly and Poppy tries various methods to tame it, but none of them work. Poppy tries to think on how to resolve the issue, but she's distracted by a lot of laughter from Holly, who's having a lot of fun despite her situation. Poppy decides to let her hair go wild, as she never knows how much fun you could have letting your hair go wild and run free. Eventually, both of the Trolls' hair could run no more and return to normal. As it is getting dark, Poppy is about to leave, but Holly suggests they let their hair go wild one more time.
Notes
Poppy sings part of the lyrics of Home on the Range.
Troll hair is magical, and it's established in 2D animation that Troll hair normally obeys the owner, but it has a independent mind of its own at times, so Trolls occasionally have a "bad hair day", where their hair does whatever it wants.
Appearances: Poppy, Holly Darlin'
Poppy Babysits Tiny Diamond
Released: September 19, 2021
Synopsis
Babysitting Tiny Diamond comes with some... unexpected challenges.
Plot
Guy Diamond asks Poppy to babysit Tiny Diamond while he runs some errands. Poppy does some activities to keep Tiny busy. After doing all the activities, they do them all again. At dinner time, Tiny refuses to eat a chocolate cake with sprinkles on top. Poppy tries everything to get Tiny to eat it. After everything, Tiny runs away, and Poppy chases him. Finally when she caught up he ate it. When she asks him why he ran away, Tiny explains that he was having so much fun with his Aunt Poppy he didn't want it to end. Poppy gives him a hug and offers him a dessert; but he has to catch her first.
Appearances: Poppy, Guy Diamond & Tiny Diamond
Notes
A Techno Troll that looks like Synth appears, but is unnamed.

It is later confirmed in "Poppy's Underwater Adventure" that this scrapbook figure indeed represents Synth.
How to Train Your Debbie
Released: September 26, 2021
Synopsis
Poppy learns that training two and a half adorable pounds of snarling fur and teeth (aka Debbie) is not easy.
Plot
Poppy comments that Trolls love all creatures, great and small. She brings up Debbie, who has a bad habit; she attacks Trolls. She says that she loves it when Barb and Debbie visit, but acknowledges that it would be greater if she didn't attack Trolls. Barb asked Poppy if Poppy would train Debbie to behave. At first it goes well as Poppy trains her to sit and speak, but she can't stop her attacking Trolls. Leashing, giving her treats and trying to speak her own language didn't work either. It turns out that the entire time, Debbie was trying to get to Mr. Dinkles. Now, when Barb comes to visit, Biggie provides the refreshments for a play date and Barb provides the music.
Notes
The title is a reference to the fellow DreamWorks Animation franchise How to Train Your Dragon.
Debbie attacking Biggie and Mr. Dinkles is a reference to her introduction in Trolls World Tour, where she ambushed Biggie.
Appearances: Queen Poppy, Debbie, Queen Barb, Biggie & Mr. Dinkles
Branch & Poppy's Bunker Makeover
Released: October 3, 2021
Synopsis
Poppy uses Branch's fear bunker to convince Val that her village is cool. It's a great idea and nothing could go wrong... Right?
Plot
Poppy lists all the things in Troll Village that she believes makes it rock, such as Piñatas and all-you-can-eat cupcakes, stating who would in their right mind say it doesn't rock; this of course turns out to be Val Thundershock. Pondering how to find a way to appeal to Rock Trolls, she realizes Branch's Fear Bunker is the answer; it's underground, it's dark, it's drippy. Val gives her approval. The next morning Branch comes to Poppy with a grumpy mood; his Bunker is now filled with Hard Rock Trolls. Poppy realizes that Val must have told every other Rock Troll about Branch's bunker. Upon returning to the Bunker, there were Trolls everywhere, and Branch liked his privacy. Afraid to hurt their feelings, Poppy tries to be sneaky about asking them to leave, but offering to take the party to her place, play tag with everyone else being it except her and the idea of a volcano and rain producing cookies doesn't get the Rock Trolls to move. Poppy tells Branch that the only obvious solution is what he wouldn't like; to "de-rock" the Bunker, in other words, it was time to Poppy-fy his Bunker. While this works, it creates a new problem; Rock Trolls may not like the new look, but Pop Trolls do.
Notes
The Scrapbook stories are a supportive series for Trolls: TrollsTopia, and in the series Branch's colors are green (body) and blue (hair). In this story, however, Branch is completely blue like in Hasbro and other company merchandise. This is not uncommon; often different sources feature Branch in different colors.
This episode is likely a reference to Trolls World Tour; Branch was used as part influence for Rock Trolls, hence why they live underground and the creators had pondered if he was indeed a Rock Troll without knowing it as a result.
Appearances: Queen Poppy, Branch, Cooper, Val Thundershock
Poppy Can't Stop The Laughter!
Released: October 10, 2021
Synopsis
"Tis of the utmost importance to remain respectful and quiet when one is attending an esteemed Classical Troll performance. So what's a Troll to do when she can't stop laughing?!
Plot
Poppy explains that Dante and the Classical Trolls take their music seriously. She says that when attending a music concert, it's important that Trolls remain respectful and quiet. She accidentally remembers a super funny thing Cooper did the other day; he played a flute with his nose while standing on a puffalo standing on a puffalo, and struggles to remain focused. While trying to hold it together, she imagines Dante doing the same thing. Poppy tries to imagine herself watching dry paint, but Cooper keeps slipping back in. Eventually, Poppy breaks and laughs out loud. Everyone stops playing and looked at Poppy. Poppy stops laughing and begins to panic as she imagines Dante is angry at her. To her surprise he thanked her, as his opera was a comedy and Poppy was the only one laughing. The opera ends with Cooper plying a flute with his nose while standing on two puffalos.
Notes
Appearances: Queen Poppy, Dante Crescendo, Cooper
Poppy's Underwater Adventure
Released: October 17, 2021
Synopsis
Poppy is invited to DJ in Techno Lagoon. And when we say the beat drops, THE BEAT actually it doesn't really drop and Poppy ends up in quite the situation.
Plot
Poppy explains that to the Techno Trolls, raving isn't just partying fun; it's a way of life. She's invited to have a go at the turntables in Techno Lagoon. Poppy is doing well and the partying is pumped. However, Poppy finds the Techno turntable complicated, and when it comes to the big drop she accidentally drops whale noises. She stresses over it being a confusing turntable, and notes it summoned a Whale critter who swallowed her and Synth. They try to tickle the whale to get it to let go, but it doesn't. Using the turntable they tried to talk to the whale, but nothing. They tried also to scrapbook a exit but that didn't work either. Poppy realizes her raving got her into this mess, but then suddenly realizes it can get her out too. Synth refuses to do it and tells Poppy he believes she can do it. She manages to drop the beat this time and they are freed. She suddenly had a whole new respect for Techno Trolls and their music. However, she decides it's time for another Techno lover to take the turntable, and the Whale drops a beat.
Notes
The fourth wall is broken when Poppy states that they tried to get the scrapbook hands to make them an exit.
A Troll that looks like Laguna Tidepool appears but is unnamed.
Appearances: Queen Poppy, Synth
Poppy's Sad Song Switcheroo
Released: October 24, 2021
Synopsis
Poppy answers the old age question: can a country song ever be too sad?
Plot
Poppy talks about her next story being really, really sad but ensures the viewer it is fine as its also super trollie. Holly hosts a Big Country Music Festival and asks Poppy to perform a song. The issue is country Troll songs tend to be super sad, which leads to the issue of Poppy having no idea how to come up with a song suitable to sing for the Country Trolls as she is Poppy. So she goes to Branch for help and suggests she gets into a sad mood and tries to bum her out. Rain fails as Poppy fins the puddles fun, waiting in line made her make new friends and Poppy fills it up. In the end Branch wrote the song for her and he ends up writing a super sad song. The song works and Poppy states she sang just like a Country Troll - she didn't want Poppy to sing like a Country Troll however. It turns out Poppy was meant to sing a happy song to break up the number of sad songs at the festival to stop things from getting too sad. Poppy apologizes for not really using his sad song and jumps in puddles to have fun.
Notes
A Troll that looks like Smidge appears but is unnamed.
A cloud that looks like Cloud Guy appears but is unnamed.
This episode is a reference to Branch liking Born To Die in Trolls World Tour.
Appearances: Queen Poppy, Branch, Holly Darlin'