WELCOME TO THE
TROLLS TROLLPEDIA!
Help
•
Terms of Use
•
Wanted Pages
•
Categories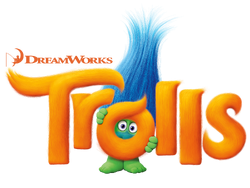 DreamWorks Trolls is a 2016 American 3D computer-animated musical comedy film. It follows a colorful, wondrous world populated by hilariously unforgettable characters. Discover the story of the overly optimistic Trolls, with a constant song on their lips, and the comically pessimistic Bergens, who are only happy when they have Trolls in their stomach.
That hit film has spawned sequels like Trolls World Tour, specials like Trolls Holiday and TV shows like Trolls: The Beat Goes On! and Trolls: TrollsTopia, all full of color, humor, and toetapping music for the whole family!
We are currently editing 1,691 pages, and you can help us! See the community to-do list to find what you can contribute here.
Latest Movie Animation

A sequel titled Trolls World Tour was released on April 10, 2020. In an adventure that will take them well beyond what they've known before, Poppy and Branch discover that they are but one of six different Troll Tribes scattered over various lands and devoted to different kinds of music: Funk, Country, Techno, Classical, Pop and Rock. Their world is about to get a lot bigger and a whole lot louder.
Latest TV Series Animation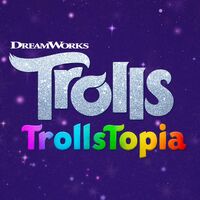 A series linked to Trolls World Tour titled Trolls: TrollsTopia has recently begun airing. Poppy invites delegates from all Troll Tribes to come and live in an experimental place in Troll Forest known as TrollsTopia. The animation has the same style as that of Trolls: The Beat Goes On! with a few improvements.
There are currently 4 seasons for the series.
Latest Animated Special

Trolls: Holiday in Harmony is a special due for 2021. It accompanies Trolls World Tour, and is a successor to Trolls Holiday.
"Wait for it..."
Due to some issues with copyright claims, please do not add images for Trolls: Holiday in Harmony until further notice.
We thank you for your patience. For more information, see Spoiler Policy.
---
THE CHARACTERS
---
WE NEED YOUR HELP!
We have three named characters that have fallen into obscurity, and their names are currently unknown. We need their names! All three appeared in the Trolls Magazine. If you can identify them and provide a source (a mobile phone picture for example, anything will do), the wiki would appreciate it.
Thanks in advance!
Additional pleas
Dear Trolls fans, we need your help with another Troll matter.
We're looking for the bios of the Trolls: Crazy Party Forest! characters so that they can have their information complete. If anyone has more sources, please notify us. Thank you!
---
FEATURED MEDIA
DreamWorks Trolls Wiki
This wiki is about all things related to the DreamWorks Trolls franchise, and anyone can edit! Not sure where to start? Pick a page at random! Can't find what you're looking for? Make a new page!
Readers beware - Please note that this site may contain spoilers if you are not caught up with all of the movie or a TV series' currently released content.
Did you know...?
Fuzzbert facts
Fuzzbert's family class is a "Fuzzling" Troll
Fuzzbert is the only Troll that generally has no lines, and at best makes hums, murmurs and random noises.
Fuzzbert is one of several Trolls who are visual gags. In this case, he's a Troll completely engulfed by their own hair, leaving nothing but a pair of feet showing.
Fuzzbert is one of the only two official Fuzzlings. The other is Wim, who was exclusively made to be sold in merchandise.
Trolls Live!
Did you know that there's a Trolls Live! event? Check it out! The performance lasts for much of 2020!
External Links
FACEBOOK
</fb:share-button> data-small-header="true" data-show-facepile="false" data-show-posts="true">
TWITTER
To use those widgets, you must have disabled your adblocker!
DISCORD
If you see this, your JavaScript might be disabled or DiscordIntegrator plugin isn't working. If the latter, please contact a wiki administrator.
Feel free to join our Discord server! We also have a brief documentation about the server that you should go over before joining.

Trolls, Trolls Holiday, Trolls: The Beat Goes On!, Trolls World Tour and Trolls: TrollsTopia belong to DreamWorks Animation. All rights reserved.

AFFILIATES
Trolls Family
The Trolls
Our Cousins