WELCOME TO THE
TROLLS TROLLPEDIA!
Help
•
Terms of Use
•
Wanted Pages
•
Categories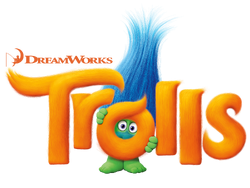 This wiki is dedicated to DreamWorks Trolls, an American 3D computer-animated musical comedy film franchise which follows a colorful, wondrous world populated by hilariously unforgettable characters. Discover the story of the overly optimistic Trolls, with a constant song on their lips. That hit film has spawned sequels like Trolls World Tour, TV specials like Trolls Holiday and Trolls: Holiday in Harmony, and TV shows like Trolls: The Beat Goes On! and Trolls: TrollsTopia, all full of color, humor, and toe-tapping music for the whole family!
We also cover the Good Luck Trolls the original Troll Doll brand of which the movie franchise is based upon, covering the era from the 2010s when DreamWorks bought the rights from Thomas Dam's company Dam Things.
The wiki format allows anyone to create or edit any article. Trolls Trollpedia encourages all users to create or edit articles, so we can all work together to create a comprehensive database for the DreamWorks Trolls franchise. We are currently editing 2,012 pages since this wiki was founded in June 15, 2016, and you can help us! See the community to-do list to find what you can contribute here.
New editors/users are encouraged to create an account, while old and existing editors/users must be logged-in in order to contribute to the wiki. Also, you must be 13 years of age or older in order to edit. It is against the Fandom's Terms of Service for underage users to create or use Fandom accounts, as it violates COPPA policies. Help us get more bureaucrats, administrators, moderators or rollbacks now!
Latest Animated Movie

Trolls 3 is a confirmed upcoming movie set for release on November 17, 2023, and is the sequel to Trolls and Trolls World Tour.
Current status: First teaser of a new character shown at the licensing Expo 2022.
Latest TV Series Animation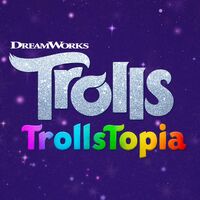 A series linked to Trolls World Tour titled Trolls: TrollsTopia is currently aired. Poppy invites delegates from all Troll Tribes to come and live in an experimental place in Troll Forest known as TrollsTopia. The animation has the same style as that of Trolls: The Beat Goes On! with a few improvements.
As of August 11, 2022, there are currently 7 seasons for the series, with the final season premiered on Hulu and Peacock.
Latest Animated TV Special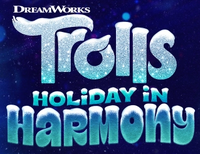 Trolls: Holiday in Harmony is a special which was released on November 26, 2021 on NBC. It accompanies Trolls World Tour, and is a successor to Trolls Holiday.
---
THE CHARACTERS
---
WE NEED YOUR HELP!
We have three named characters that have fallen into obscurity, and their names are currently unknown. We need their names! All three appeared in the Trolls Magazine. If you can identify them and provide a source (a mobile phone picture for example, anything will do), the wiki would appreciate it.
Thanks in advance!
Additional pleas
Dear Trolls fans, we need your help with another Troll matter.
We're looking for the bios of the Trolls: Crazy Party Forest! characters so that they can have their information complete. If anyone has more sources, please notify us. Thank you!
---
FEATURED MEDIA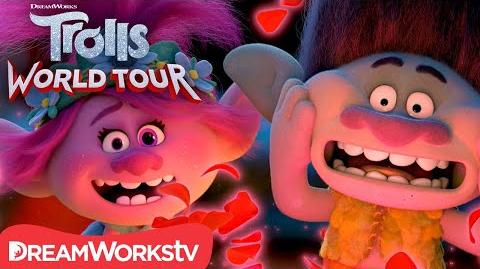 DreamWorks Trolls Wiki
This wiki is about all things related to the DreamWorks Trolls franchise, and anyone can edit! Not sure where to start? Pick a page at random! Can't find what you're looking for? Make a new page!
Readers beware - Please note that this site may contain spoilers if you are not caught up with all of the movie or a TV series' currently released content.
Countdown
Only November 17, 2023 until Trolls 3 is released!🥳
Did you know...?
Pop Troll facts
Pop Trolls record everything via Scrapbooks.
Their ancestors were purposely written to be bad guys in Trolls World Tour, and from early drafts the idea they had rewritten their history had always been a thing.
The Pop Trolls have the largest resemblance to the traditional Troll Dolls.
Many of the named Pop Trolls are visual gags on the normal Pop Troll design. These include Smidge, Biggie, Satin & Chenille, Guy Diamond, Fuzzbert, Legsly and Skyscraper.
Trolls Live!
Did you know that there's a Trolls Live! event? Check it out! The performance lasted for much of 2020!
External Links
FACEBOOK
</fb:share-button> data-small-header="true" data-show-facepile="false" data-show-posts="true">
TWITTER
To use those widgets, you must have disabled your adblocker!
DISCORD
If you see this, your JavaScript might be disabled or DiscordIntegrator plugin isn't working. If the latter, please contact a wiki administrator.
Feel free to join our Discord server! We also have a brief documentation about the server that you should go over before joining.

Trolls, Trolls Holiday, Trolls: The Beat Goes On!, Trolls World Tour, Trolls: TrollsTopia and Trolls: Holiday in Harmony belong to DreamWorks Animation. All rights reserved.

AFFILIATES
Trolls Family
The Trolls
Our Cousins