Trolls World Tour is a 2020 American animated Musical film and sequel to the 2016 hit Trolls. It was set to be theatrically released in the United States on April 10, 2020,[1] but due to the 2019-20 coronavirus pandemic, it was released on digital instead.
It was later confirmed the decision to release the movie on Demand resulted in Trolls World Tour making more money in less than a month than Trolls did in 5 months.[2]
Synopsis
It's all glitter and happiness in Troll Village until, Queen Poppy and Branch make a surprising discovery- there are other Troll Species beyond their own, each defined by a different genre of music. When a mysterious threat puts all the Trolls across the land in danger, Poppy, Branch, and their band of friends must embark on an epic quest through unfamiliar terrain to do the impossible: create harmony among the diverse Trolls to unite them against certain doom.
Plot
The movie begins at Techno Reef where the Techno trolls gather for a massive rave as their leader King Trollex is about to drop his latest song One More Time. After the song drops and the Techno Trolls enjoy their music, a shadow approaches in the distance.
Trollex stops the party and approaches by himself Queen Barb of the Rock trolls greets herself when he refuses to hand over the Techno String she and her Rock Trolls attack. They send the Techno Trolls flying and destroy his DJ booth. To try and limit the damage and preserve his peoples' vibe, he agrees to hand it over. Barb tells him when she is done, they're all going to have the same vibe.
At Troll Village, Queen Poppy begins her morning routine and starts singing Trolls Wanna Have Good Times, the Trolls morning Medley. During this, Branch starts to think about taking his and Poppy's relationship to the next level and states he just has to get the guts to tell her she is the one. He joins in the morning Medley. During the medley, Poppy and her friends witness the birth of Tiny Diamond, Guy Diamond's newborn son who is a Hip hop Troll, the Medley continues as the Trolls now celebrate his birth.
At the end of the Medley, Poppy and Branch see everyone off about their day. Branch then tries to talk to Poppy and tell her how he feels but he can't say the words, Poppy ends up revealing that she considers him a friend, the word "friend" does not want he wants to here and he zones out. Trying to make up for it, the two try and high-5 each other but fail, but Poppy succeeds with Fuzzbert.
Their attention is turned to Biggie who is being attacked by a bat. Poppy takes it away from him but now has it in her hair. Branch calms the bat down and attention is drawn to a message it was carrying. Poppy read about a big event Queen Barb of the Rock Trolls is hosting and to bring the Strings. King Peppy steals the message from her and attempts to destroy it. Branch calms the anxious King down. Peppy explains that other Trolls besides them exist and they are called "Pop Trolls". This makes sense to them and they all nod in agreement. Poppy wants to hear more about the other Trolls, but Peppy explains that they are very different from them, while Cooper takes note of Peppy's words about their being different Trolls. He causes the entire village to freak out when he says some don't understand the concept of "Hammertime".
The group breaks down to Poppy and The Snack Pack members. Peppy explains that in the beginning, everything was boring until a Troll made a note that caught everyone's attention. This was the start of the Trolls love for music and they took six Strings, one for each type of music; Pop, Rock, Country, Classical, Techno and Funk. Then over time arguments broke out over their differences leading to arguments. The Tribes elders decided it was best each Tribe took a string and go their separate ways and ever since the Tribes have been isolated from each other.
Peppy shows them the String, which he explains has a lot of power. Peppy wants to run and hide while Poppy wants to go meet Barb who she thinks is trying to unite the Trolls again. Peppy and Poppy get into a row over what is best. Later that night, Poppy goes to sneak out in Sheila Balloon but is caught by Branch. Cooper hears them talking and watches from a nearby bush. Poppy unties the balloon and starts to float away, Branch is unable to just let her go so jumps into the balloon. After they leave Cooper realizes one of the Trolls looks just like him and leaves Pop Village to find Trolls that look just like him.
The next morning Barb leaves the Ocean and arrives onshore singing Crazy Train. She nips into her Angler Bus and shows off the Techno String. She places it into her guitar and it is converted to the Rock Strings power. As she sits down she realises her father King Thrash is missing, but he is just in the toilet. As he leaves she explains to the senile old Troll the plan to get the Strings and play the Ultimate Power Cord. The Old King goes to do the Rock symbol but needs Riff's help to finish it.
Poppy and Branch try to fly the balloon but the manual is big and Poppy tries to learn without it which leads Shelia to tell her to stop. They discover Biggie has stowed away on the Balloon hidden under the cotton candy Poppy brought with her, as Mr. Dinkles was attracted to it. Poppy explains their going to help Barb unite the Trolls.
As they approach Symphonyville they discover that Barb has already arrived ahead of them and everything is in ruins. Pennywhistle is the sole survivor and tells them that Barb took their string from Trollzart and all the Classical Trolls leaving nothing left behind - they lost everything. Poppy comes to the realization Barb wants to destroy all music and Biggie freaks out, so Poppy does a Pinky Promise that no matter what she will protect him.
Meanwhile, as they leave the mountains, Barb's bat "Debbie" returns to her master carrying a reply from Poppy and having been given a makeover to the horror of Barb herself. Barb reads Poppy's message saying she hopes to be best friends with Barb but Barb doesn't understand how someone can be friends as it takes years to form a friendship. Just then, a glitter bomb goes off in Barb face and Barb has a rant about Pop music. When her father starts to sing the Pop song from the message, Barb has had enough and brings in the Bounty Hunters Chaz the Smooth Jazz Troll, Tresillo and his reggaeton Trolls, The K-Pop Gang and The Yodellers. She explains that she plans to make Rock the dominant music but will spare whoever brings her Queen Poppy and let them have a tiny territory, stressing to Tresillo when he comments on the size that's the offer. Only the Yodellers didn't show to the meeting, but Barb is confident they will bring in Poppy as she burns Poppy's message.
The Pop Trio arrive at Lonesome Flats, home of the Country trolls. At first there is no one around, but high noon hits and the mayor, Delta Dawn appears singing Born to Die, which brings out all the Country Trolls. Poppy comments that the song is sad, Branch likes it but Poppy thinks they must not know music is suppose to make you happy. Delta feels sorry for the trio as they "look like they were beaten up by a rainbow" and is not bothered by them. Poppy attempts to cheer them up by singing a medley that covers all the most important songs. Soon the three find themselves alone as the Country Trolls hide from their music.
Delta throws the three in jail for "Crimes against music". When Poppy warns Delta about Barb, Delta is not worried about her. Poppy has to face that some Trolls don't want to have fun and Branch tries to cheer her up. They begin plan B and Branch and Biggie start to dig their way out with the intent to return home. Hickory however shows up and busts the trio out. They escape on the Jail door as Delta, Clampers Buttonwillow, Growley Pete and a number of other Country Trolls give chase.
The four Trolls ride over the edge of a ravine to escape Delta, after falling into the river below Delta is annoyed that they escaped. The four Trolls survive the fall into the river, with Mr. Dinkles being pulled back from a near death experience by Biggie, Branch has questions as to why their new friend helped. Hickory explains he didn't think it was fair they rushed to discriminate against the Pop Trolls. Hickory builds them a boat to make getting to the Funk Trolls faster.
During the river journey, Branch wonders in mistrust about Hickory but Poppy is fine with him and wonders if Branch is questioning her judgement. As the Trolls settle for the evening Chaz attacks. The three Pop Trolls are put under a trance and when they snap out of it, they are tied up. Hickory kicks Chaz off the boat, thus saving them as he put gumdrops in his ears to block out the noise of Chaz's smooth jazz music. Biggie freaks out as it is clear Poppy cannot keep them safe, thus breaking her Pinky Promise, he leaves to head back to Pop Village.
Cooper meanwhile is lost in the desert and tries to drink from a mirage. He snaps out he is taken by a strange force.
On the river, Hickory sings I Fall to Pieces and confronts Branch over his obvious feelings for Poppy. Branch notes he tried to tell her how he felt about her but failed. Hickory notes of the two of them Branch is doing all the listening, thus right now she my not even hear him. They come across a large object in the sky and are taken by a bubble beam, with Branch and Hickory landing hits on each other as they try to fight it.
The three arrive in the flying city of Vibe City and are greeted by what they think is Cooper. This turns out to be Prince D, Cooper's twin brother. Cooper introduces them to King Quincy and Queen Essence his parents. When D states he is half-Hip Hop, Poppy questions her map which D comments is likely out of date, Branch notes it still has Disco on it. When Poppy speaks about their all alike Quincy states their not and then her suggest to combine their efforts results in Quincy stating that they will do anything but that.
They then reveal the true history of the Strings, Prince D sings It's All Love (History of Funk) and explains in the past what broke the Tribes up was the Pop Trolls themselves. The Pop Trolls stole the six strings to play only remixes of all the other music. The other Trolls finally got their Strings back, but the damage was done and everyone no longer trusted that this wouldn't happen again so split.
When the song finishes, Quincy and Essence explains that denying their differences would be denying who the truth of who they are. Poppy comments they hadn't thought about this. The alarm goes off and the Funk Trolls prepare for battle as Rock has arrived. Cooper sends his friends on their way to protect them, despite Poppy's plea to let them help. As the trio leaves, the Funk Trolls are plunged into darkness as Riff pulls the plug on their lights.
As the trio float away from Vibe City, they see the Rock Trolls arriving and Poppy wants to go back. Branch finally puts his foot down and tells Poppy its time to go home. Poppy defends herself as wanting to prove she is a good queen, but Branch points out a good queen listens and she has not been, not to her father, not to Biggie, not to Quincy and not even to him. He has backed her up throughout the journey even when she was wrong. He replies he heard back there that differences do matter - like them.
As their bubble lands and bursts the two have a fight and Branch leaves for home, stating as he departs that she is the most important person to him right now. Sad, Branch begins to sing Perfect For Me, a song in the vein of the Country Trolls sad style, Poppy joins in despite them being far apart at this point. When Branch finishes the song, The K-Pop Gang arrive and capture him. They demand he takes them to Poppy but Tresillo and his Reggaeton Trolls interfere. The two groups can't live without their music and dance off against each other for Branch. Branch stops them and makes a proposal.
Poppy meanwhile reflects on her thoughts with the String. She puts it away when Hickory arrives, but in her despair at the situation accidentally pulls it out in front of Hickory. It is then revealed Hickory, along with his brother Dickory have been pretending to be a Country Troll together to get close to Poppy. Dickory tries to take the String while Hickory attempts to help Poppy. Their yodelling grabs Barbs attention and Barb is snatched by Carol and another Rock Troll. Dickory hands Barb the Pop String and Barb confronts her worry, commenting on how short Poppy is compared to her and how she didn't know why she was worried about her. As the two interact, Barb reveals she has already attacked Pop Village.
Biggie arrives at the village and finds the surviving members of The Snack Pack. They make costumes and attempt to break into the Rock Trolls home to rescue Poppy. During their intrusion though, Sid Fret and another Rock Troll catch them, the group convinces the Rock Trolls they are also Rock Trolls, but this lands them s Barb's back up band, Smidge comments "we're screwed".
Elsewhere Barb brags to Poppy about how she's basically won and asks if Poppy enjoys being Barb's best friend as a mockery of Poppy's earlier message, Poppy comments they are not friends. Barb reflects that as a Queen she is used to hearing people tell her what she wants to hear and not really being friends. She puts the Pop String in the guitar and comments she will play the Ulimate Power Cord, then Poppy will see what happens.
On stage, Barb sings Barracuda while The Snack Pack pretends to play along in fear while Peppy and the Funk twins are hurried forward to the front. When attention is drawn to them, Biggie smashes a guitar shouting "Barracuda" and it seems to get attention off of them. Barb then introduces the Trolls to their former leaders, calling Pop "the worst of all". As Barb goes to play the Ultimate Power Cord and hit Poppy with the power of her guitar, she is hit with the balloon manual as Shelia Balloon appears carrying Branch, the K-Pop Gang and the Reggaeton Trolls. This proves to be a temporary setback as Barb begins to play again, Branch swings over to Poppy and throws himself in the way. Where he was a large boulder falls to the ground. When it smashes open, Branch has been converted into a Rock Zombie.
Barb is hooked up to a Angler Bus and flies around the stage converting the other leaders to Rock Zombies. She turns back to Poppy who has opened her cage, she gets Branch to use his mullet to grab her and then hits Poppy with the Power Cord. At first it appears as though Poppy is converted, Barb hands her the Guitar so she can convert Peppy and the Funk Twins, the final members of the leaders' family, but Poppy turns to face Barb. Poppy used Gumdrops to protect herself from Barb's Power Cord. Poppy begins to tell Barb that she won't let anyone else be converted, Riff interrupts and tell Barb is they all look the same how will anyone know their cool.
Poppy also tells Barb a good queen listens, then proceeds to smash the guitar, snapping the Strings and reverting Branch, Queen Essence, King Quincy, Trollex, Delta Dawn and Trollzart, and her Rock Zombie appearances back to their normal selves. However, every Troll becomes grey as the music fades from every Troll present, and with them the Trolls have lost all music including rock. When Poppy goes to make sure Branch is okay after he was reverted from his Rock Zombie form, Barb witnesses in horror that the Strings have been destroyed as the Strings fade away. Barb then puts the blame on Poppy, stating history has repeated itself with Pop ruining everything once again. The Trolls take a moment to let it sit and face the fact that their music is gone, but Cooper feels a beat within him as he realizes music is still in his heart an his brother Prince D begins to make a hook sound as he joins in, with all the other Trolls witnessing this.
Queen Essence notes that her sons are making music. Delta Dawn feels the beat and begins to clap and tap her feet along to the beat, she turns to her Country Trolls who also join in. The beat continue and each Tribes hearts light up as the Trolls begin to sing in unison a simple background harmony. Essence states Barb can't take their music from them and Quincy states it started with the Strings but now comes from them. Trollex says the music comes from their experiences, Delta adds their lives, Essence adds their conscious. Trollzart calls the simple harmony beautiful and Poppy finally understand the thing she hasn't grasped the entire movie about differences.
Poppy, finally understanding differences matter, steps forward and leads in the song Just Sing, she is soon joined by Branch and then one by one the other leaders. Every Troll slowly recolors as they join in until Barb is the sole remaining grey Troll. She finally joins in, as she plays her guitar in which she recolors, her hair becoming rainbow-colored as she accepts other Trolls' music with the help of her father Thrash. Poppy also colors up having united the Trolls at last.
The song ends with all leaders standing side by side and a united Troll Kingdom. When Poppy tells Barb now she isn't forcing her and she'd like to be friends with her, Barb finally agrees. Branch concurs with Poppy and confesses his love to her, to which she states back she loves him too; the pair finally do a connected high-five, which begins their relationship as more then just friends. As the camera pans out the pair kiss.
Back at Pop Village, Poppy tells the new version of the Troll history on how their ancestors were wrong to Trolls from each Tribe. She is joined by Branch as she says you can't harmonize alone. The two depart and the Pop Troll village celebration begins. The leaders of the Trolls interact, have fun and Prince D and Branch sings Don't Slack. During the party, Cloud Guy meets a female cloud, they propose and then have a family. The song ends with Poppy and Branch riding into the sky with Debbie following them.
As the movie closes, King Gristle Jr. and Bridget appear having missed the Trolls' party.
Cast
Additional Voices
Production
On February 28, 2017, Universal Pictures and DreamWorks Animation announced a sequel to the 2016 film Trolls, with Anna Kendrick and Justin Timberlake reprising their roles as Poppy and Branch. In May 2017, podcasters the McElroy brothers began campaigning for roles in the film via a podcast titled "The McElroy Brothers Will Be in Trolls 2". Following the campaign's success, DreamWorks confirmed in September 2018 that the McElroy brothers would make cameo appearances in World Tour.
The film will see the additions of Sam Rockwell, Chance the Rapper, Anthony Ramos, Jamie Dornan, Karan Soni and Flula Borg to the cast in May 2018. Corden, Stefani, Icona Pop, Funches, and Nayyar will also reprise their roles. On June 12, 2018, the film was retitled as Trolls World Tour. In October 2018, it was confirmed that Kelly Clarkson had joined the cast, and will perform an original song. In June 2019, along with promotional posters, new cast members have been announced, which include: J Balvin, Mary J. Blige, Rachel Bloom, George Clinton, Ester Dean and Gustavo Dudamel.
Along with Timberlake, Clarkson, Paak, Blige and Clinton, songs will be provided by Chris Stapleton and SZA.
The McElroy brothers became voice actors for the film after a series of ventures that led them to be accepted as voice overs. They voice a number of minor characters between them and collectively the Troll, Skyscraper.[3]
On March 7, 2019 trademarks were placed for Trolls World Tour for books and magazines, clothing, toys, games and playthings, entertainment and prerecorded videos.
Development
Themes
"
In fits and spurts, the DreamWorks movie introduces ideas about colonialism, cultural appropriation, and music criticism, all through the prism of a family-friendly comedy.
-quote from Rolling Stone interview with screenwriter Jonathan Aibel
"
The main theme of Trolls World Tour is "differences" and how different people lead very different lives. Some of the underlining themes as a result are much darker and sinister then in Trolls.[4] The intention, however, was not to start out as making purposely a movie on cultural appropriation from the start.[5]
Each Tribe represents a different music, thus a different culture, race of Trolls and although they are all "Trolls" they are not all the same. Each Troll Tribe has its own look, feel and song genre preferences as well as reactions to life in general. The Trolls music is used as a means to represent cultures getting along with each other and is a reference to real world cultures and their problems.
The main reactions to each Troll culture are represented by the two Queens Barb and Queen Poppy and the two have very extreme but opposing points of views on their world. Poppy's inability to comprehend things that don't fit in her world view results with her being unable to understand just how different they are. Poppy experiences a culture shock when meeting other Trolls, Poppy wants to save them all but her issues with understanding the different cultures get in the way. Meanwhile, Barb doesn't care as she puts value of her own over the others and thus wants to take away what they have and failing to understand how differences make things more interesting. While Poppy believes the different music should unite the Trolls, Barb believe that divides them and the only way they can be united is only if they share the same genre of music. As the film goes on, the differences of the different Trolls put strain even on the basics of Poppy's relationships, and even Branch questions their friendship and if they should be friends when he finally speaks against her.
Barb's own campaign for World Domination leaves her convinced she is correct and the actions of her and her Rock Trolls are somewhat zealous. This was mentioned that the writers had grown up in the Rock Trolls world of the 1980s and wearing something like a Judas Priest shirt would have said "this is who I am". This formed the basis of how the Rock Trolls acted.[5]
Some of the comments Trolls make in the film are also real life comments. It is common for Rock and Metal fans to criticize modern music such as EDM as "not real music" while citing Rock and Metal as examples of real music. Likewise, classical can be viewed as "boring" to many. All of Barb's comments during her temper tantrum at Poppy are real criticisms towards Pop music. Genres under the classification of "Techno" are often criticized as not real music because of their lack of actual instruments relying on machines to do all the work, resulting in just "peeps" and "poops". Meanwhile sad songs are often criticized for being depressing such as those exampled by Born to Die as some people do prefer music that is uplifting and makes you feel good. These criticism the Trolls make at each other's music are a reflection of actual Music fans and their criticisms at fans of other genres. The criticism is used to reflect how people criticise how others live against their own.
Smaller themes include history being written by the winners, as the Pop Trolls of the past had not accurately recorded their own involvement in the initial splitting of the Tribes. This apparently was kept in the script from early one throughout production as a means of showing a teenager growing up and realising what they had learned from their parents and culture was fake.The realisation to the characters was real and powerful.[5]
Another small theme was making promises such as the Pinky Promise when Poppy cannot actually see it through.
For Barb and the Rock Trolls, their disdain towards Pop Trolls is a form of "ancestry shaming" wherein current living individuals are treated based on their ancestors' actions.
Though made in passing comment as a joke, the fact Disco Trolls may have once existed and have since gone extinct has also been noted as one of the many other darker tones of the movie, as it implies that entire subcultures of Trolls have disappeared over time.
Character Development
Queen Essence was originally called "Mama Bootsy".
Riff was going to be called "Spyke".
Coral Blush and his family were not green, but instead both his father and him were blue while their mother was pink. Bliss Marina was also a generic blue Random Troll.
Concept art for Cooper at all stages of his life were created but never used.
Ancient Trolls that resemble cavemen were also conceptualized but not used in the film either.
In the movie, Cooper met a pair of Jazz birds. In concept art, he met actual Trolls.[6]
In concept art as well, the K-Pop Trolls looked very different to their final film versions, while the Reggaeton Trolls remained mostly the same. Some of the rejected concepts for the K-Pop Trolls included both male and female Trolls. They also had a more oriental appearance.[7]
The movie also brings to question Poppy's character from the first film, addressing the issue of what makes a good leader. In Trolls and Trolls Holiday, Poppy was shown to do her own thing and not to listen to Branch. Finally, this comes to a head when it causes her problems as Queen, as she fails to hear what others have to say. When Hickory joins her group of travelling friends, he makes it worst by telling her what she wants to hear and thus causing her to further ignore Branch and Biggie who are travelling with her. She pursues her quest even though it's going badly, and her people and friendships are strained as a result. Later, Poppy's inability to listen is used against Barb when Barb was forced to acknowledge or ignore Riff when he spoke up against her plans, as Poppy throws the lesson she has had to learn at Barb.
Plot Changes/Scene Deletions
The storylines' plot begun with the writers asking how to make their world bigger, and they played with the idea of there being other kinds of Trolls that specialize in music. Some ideas were brainstormed which had both big and small "troll-town" ideas. The idea of the Pop Trolls being a secondary villain in Trolls World Tour had been taken from the idea that people didn't know The Beatles and Elvis Presley had taken ideas from other singers before them.[5]
The movie originally begun with Poppy singing The Sound of Silence, with Barb interrupting her to do a guitar solo. At one point, she stage-back-slides along the ground. This lead into the main movie with Poppy asking "who was that?", as seen in the first Trailer. A lot of Barb's introduction animation was later used for when Poppy appears to have been turned into a Rock Zombie.
In early promotional material which was released before the movie itself did, Barb's reason for going after the Strings was that she was jealous the Pop Trolls popularity and success and wanted to end their dominance. This was changed at some point before the movies' release, but references to this can be found in very early 2020 merchandise. Also, the Techno String was held in Techno Beat Drop Button. The scene of King Trollex removing the String and giving it to Barb was cut from the movie.
Concept art depicts Cooper being with Poppy, Branch and Biggie when they arrive at Lonesome Flats, which shows that he wasn't originally going to be doing a solo journey.[8]
In the storyboard, Poppy, Branch and Biggie would have made a joke while in the Lonesome Flats jail. It involved them stating about if they stayed any longer they would end up like the skeleton family, with the skeletal remains of two adult trolls and a child being pointed to.[9]
In early script, the Funk and Rock Trolls had music battle.[10] Poppy was also supposed to get lost in a Funky forest.[11] References to a "Funky Poppy" design is seen in early promo. Topps Trolls cards for the film still reference the cut design.
Poppy, Branch and Biggie also met Hickory first before meeting the Country Trolls, who then took them to Lonesome Flats.
World Building
Each part of the Troll Kingdom has a different look. Lonesome Flats resembles a quilt. Volcano Rock City is made of leather and denim. Techno Reef uses LED and crochet. Vibe City uses neon lights and vinyl record references.
The Dreamworks Trolls twitter account ran a series of Tweets under the tag of "#TrollsArtTuesday" showing concept art.[12]
The movie's plot takes place over the course of approximately 3 days with the sunlight in each part of the day being monitored.[13]
As with the Trolls film, many of the landscapes had real life model counterparts to help with visualisation. The ancient ancestors of the Trolls as depicted by Peppy were created in real life with actual textiles and materials before being photographed for use in the movie.[14]
Music
Promotional Songs
Crazy Train
Mi Gente
Zimzalabim
Soundtrack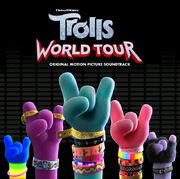 Movie Songs
Movie
The Other Side (instrumental and choirs)
Trolls Wanna Have Good Times - Anna Kendrick, Justin Timberlake, James Corden, Ester Dean, Aino Jawo, Caroline Hjelt, Kenan Thompson & the Pop Trolls
U Can't Touch This - MC Hammer
Pop Muzik - Joseph Shirley
Hocus Pocus - Focus
Move On Up - Curtis Mayfield
Atomic Dog World Tour Remix - George Clinton and parliament funkadelic, Anderson Paak & Mary J Blige
It's All Love (History of Funk) - George Clinton, Anderson Paak & Mary J Blige
Russian Roulette - Red Velvet
Mi Gente - J Balvin & Willy William
Just Sing (Trolls World Tour) - Justin Timberlake, Anna Kendrick, James Corden, Kelly Clarkson, George Clinton, Mary J. Blige, Anderson Paak, Rachel Bloom, Kenan Thompson, Anthony Ramos, Red Velvet, Aino Jawo, Caroline Hjelt & Sam Rockwell
End Credits Songs
The Other Side - SZA & Justin Timberlake
Rock N Roll Rules - HAIM & Ludwig Göransson
Cut Songs
Related Media + Merchandise
Compared to Trolls, Trolls World Tour has had much greater amounts of merchandising overall. Part of this can be put down to the movies success and part can also be contributed to the number of trademarks held related to this movie. In addition to the 5 trademarks for "Trolls World Tour" a number of characters have been trademarked. This includes Growley Pete, Tiny Diamond and Delta Dawn.
The movie highly benefitted from its release at home rather then the cinema.[15]The success of the movie is put down to a positive response and good marketing.[16]
Trolls TrollsTopia
A new series based on Trolls World Tour is to be released called Trolls TrollsTopia.
Books
The Trolls World Tour: The Junior Novelization is set to be released on March 24th 2020. This is the adapted book version of the film written by David Lewman who also had written Trolls: The Junior Novelization and Trolls Holiday: The Junior Novelization.
The Trolls Magazine also begun updated its title and publication to the movies new release.
Toys & Games
Starting from Jan 2020, Trolls World Tour had much more merchandise to offer before and after release throughout 2020 then Trolls before it. By 3 months more Merchandise had been produced overall for the movie then Trolls had seen in its first year.
Hasbro updated their small range figurines to include Trolls World Tour toys, as well as the medium range (a new line of fashion dolls were produced) and large range. A new toy line Tiny Dancers was created.
Top Trumps released a Trolls World Tour deck that is compatible with the past Trolls deck. Other games were made by companies and Topps Trolls had a collectable trading card game.
Wow Stuff also produced a number of figurines as did Funko and LEGO Sets were made for Trolls.
Cosmetics
As with Trolls, PÜR produced promotional make-up as a tie-in with the movie int heir PÜR X TROLLS range. Compared to their Trolls line up, the promotion was much bigger and an entire line-up of cosmetics were produced.
DVD, Blu-Ray and 4K release
The DVD, Blu-Ray and 4K releases were set to be released on July 7, 2020.
There was several buyer options including;
A "Dance Party" option which featured bonus content only featured in this version, including the short Tiny Diamond Goes Back To School. This version is available as a DVD, Blu-ray or 4K with digital download version.[17]
The Walmart version of the Dance Party version includes the the DVD, Blu-Ray and downloadable options, plus a special pair of Funko Keyrings of Queen Poppy and Branch. This version is sold exclusively in the USA.[18]
A 2-movie collection with Trolls included.
Trivia
The way Trolls were divided by Dreamworks in previous Trolls media was by family, the classifications of which were "Guru", "Giant", "Rainbow", etc; for example, Branch and Poppy were in the "Rainbow" family. These terms were dropped after Trolls World Tour's announcement, and Trolls became identified by their Tribe instead of their family.
The scene where the Rock Trolls emerged from the ocean after destroying Techno Reef is a reference to the Mad Max chase scene.
Videos
Official Trailers
Interviews
Official Clips
International and TV Spots
Promos
How to Draw
Commerical Ads
References
Movie Ranking
How good was "Trolls World Tour"?
Community content is available under
CC-BY-SA
unless otherwise noted.